On the afternoon of February 2, Mayor Yang Qingzhang led the comrades in charge of the municipal emergency management bureau, municipal fire detachment, and municipal commerce bureau to the Economic Development Zone to conduct safety inspections of hazardous chemical production enterprises before the Spring Festival. Chen Xiaohua, secretary of the Economic Development Zone Party Working Committee, Shao Ping, director of the management committee, and principals of the district safety supervision bureau, district fire brigade, and district outreach bureau accompanied the inspection.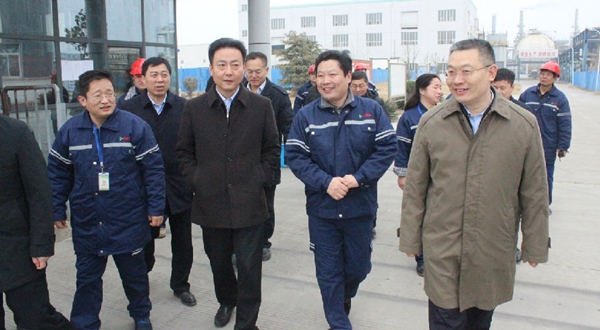 At Liyang Bander Road Chemical Co., Ltd., Yang Qingye and his team went to key positions such as the central control room, material tank area, and terpene resin device of the company to inspect the operation of safety facilities and equipment of hazardous chemicals companies and the implementation of the company's production safety responsibility system. , On-site inspection of the establishment of the company's dual prevention mechanism system, and asked the staff on duty to understand the company's safety risk management and control, hidden danger investigation and management, emergency treatment measures, etc .; urged the company's main person in charge to continue to do a good job of dual prevention mechanism optimization and upgrading, hazardous chemicals Special efforts to solve problems and establish safety standardization. Yang Qingxuan emphasized that the year is approaching and all kinds of safety risks will be highlighted. Doing a good job in this period of work is particularly critical, and we must not allow the slightest slack or sloppiness.
Yang Qingyue required that the competent department should supervise and guide enterprises to do a good job of safety management during the two festivals, especially for the implementation of high-risk operations such as the suspension of production before the festival and the start of the enterprise after the festival. stable. Enterprises should earnestly perform the main responsibility of production safety, comprehensively strengthen the implementation of the production safety responsibility system for all employees, and focus on safety education and training, safety risk prevention and control, hidden danger investigation and management, special operation management, parking management, and emergency duty on duty, etc. Prevent security incidents. Departments at all levels shall implement responsibilities in accordance with the requirements of "three managements and three requirements", strengthen monitoring and supervision, integrate prevention and mitigation of major risks throughout the entire production safety work process, and adhere to the prevention and mitigation, prevention and disposal, management, and emergency phases. Combined, comprehensively implement prevention, management, and control measures, prevent and control safety accidents from the source, and ensure that the people of the city have a happy, peaceful and peaceful Spring Festival!